Hello! Welcome.
I'm Wee Hua from Singapore.
I'm a Creative Technologist who loves to see happiness in people. To a large extent, how happy people are with a creation determines my take on how successful the creation really is.
Crafting with the principles of happiness over the years, I am pleased and honoured to have received some awards and recognition.
While specialising in creative and interactive media design roles, I also have experience in disciplines ranging from web and graphic design, to software development and video production.
Education-wise, I hold a Bachelor of Computing honours degree in Communications and Media from the National University of Singapore and a Diploma in Internet Computing with Merit from Temasek Polytechnic.
Design & technology
is all over my life.
I cannot surf a website or read a magazine without looking into its ideas, layout and typography.
Likewise, I can no longer watch a film or TV commercial without appreciating its concept and saluting to its technical achievements.
Above all, I learn and seek inspiration through a diversity of experiences. It could be something as simple as strolling along the Singapore River.
Every so often,
it's complicated to be simple.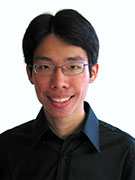 When I'm away
from the computer...
I can be found with broomsticks and mops around Bukit Merah View estate, visiting the elderly and tidying up their houses. Leading Zhi Shan Voluntary Group, I organise and participate in numerous charitable activities regularly.
Did you know? One of the best ways to ask me out is to include pool or snooker in the agenda!